Hosted at Way Art Yonder from January 19-21, 2019 in Jamal, California
Are you looking to take your acrylic abstract painting to a new level? Are you inspired to go large and be loose with your work? If you are looking to surround yourself with inspiration, ideas, techniques, and secrets a professional artist uses in their day to day painting routines, this is the class for you!
For more Information and to register, click HERE.
Hosted at ARTWorks Vass on February 1, 2019 in Vass, North Carolina
Enjoy an afternoon of creating Sweet HeART mini masterpieces with author and instructor, Jodi Ohl.
For more Information and to register, click HERE.
Hosted at ARTWorks Vass from February 16-18, 2019 in Vass, North Carolina
Let's face it, we all have a fear of the blank canvas from time to time. Where does inspiration come from and how do we take what we have in our heads and bring it to life on the canvas? During this extended weekend workshop, we will immerse ourselves in a variety of ways to draw upon inspiration to create abstract works of art, still life vignettes, and/or a combination of all the above. The choice is yours! Students will be encouraged to explore both realistic and the abstract as part of the concept of "Double Vision".

For more information and to register, click HERE.
REME RETREATS: Ocracoke 2019
Hosted by ReMe Retreats from April 29 - May 4, 2019 in Ocracoke Island, North Carolina
Jodi's Workshop: "Abstract Collage Collective"
Do you have an eye for spotting patterns, or an intrigue for lush textures? Patterns and textures are all around if we open our eyes and minds to them. Consider the bark of a tree, or the formation of strata in a mountainous setting-the colors, the patterns, the texture all fits together in an imperfectly perfect way. Walk through a store and you will find a myriad of patterns in clothing or textiles that jump out and capture your eye. Perhaps you are drawn to lettering and find graphics in a book or letterpress fascinating. Looked at individually, these patterns and textures may not tell a story, but you as an artist with little more than instinct can breathe life into the unrelated and create stories through collage, color, paint and abstraction. During this fun filled course, students will be working with paint, creating prints, and embellishing paper/fabric-based collage elements & more before assembling into a small body of work that tells a story, unique to each student.
Set in a remote island off the coast of North Carolina, students of our ReMe Ocracoke retreat are sure to be inspired by the natural serenity that can only be found along the seashores of the Outer Banks. A perfect setting to let your creativity muse come alive during our flagship retreat. Rest, Relax, Renew and create your own story as we work on 3-4 abstract collages full of marks, texture, pattern and color.
Duration: Students will arrive Monday afternoon and depart Saturday morning. The schedule for the week will include 1 ½ days of classes each from instructors Jodi Ohl and Jean Skipper. The working studio will be open 24 hours a day so if the mood moves you, you may work until the wee hours of the night or rise up early and enjoy some quiet time to work in your journal or to finish up your project prior to class commencing. In addition to dedicated class time, you can also expect to be treated to a myriad of special activities, team building exercises, lots of great food, cocktails of the day and a staff ready to make your experience remarkable! More details to be released prior to our event and lots of surprises during the retreat as well! *Note this retreat is 'all inclusive' other than your travel. Students and hosts all will 'stay and play' in the same historic inn. Meals, snacks, beverages and many other goodies are included with your tuition. A few spots have opened up.
To be added to the wait list for 2019, please click HERE and let us know you are interested!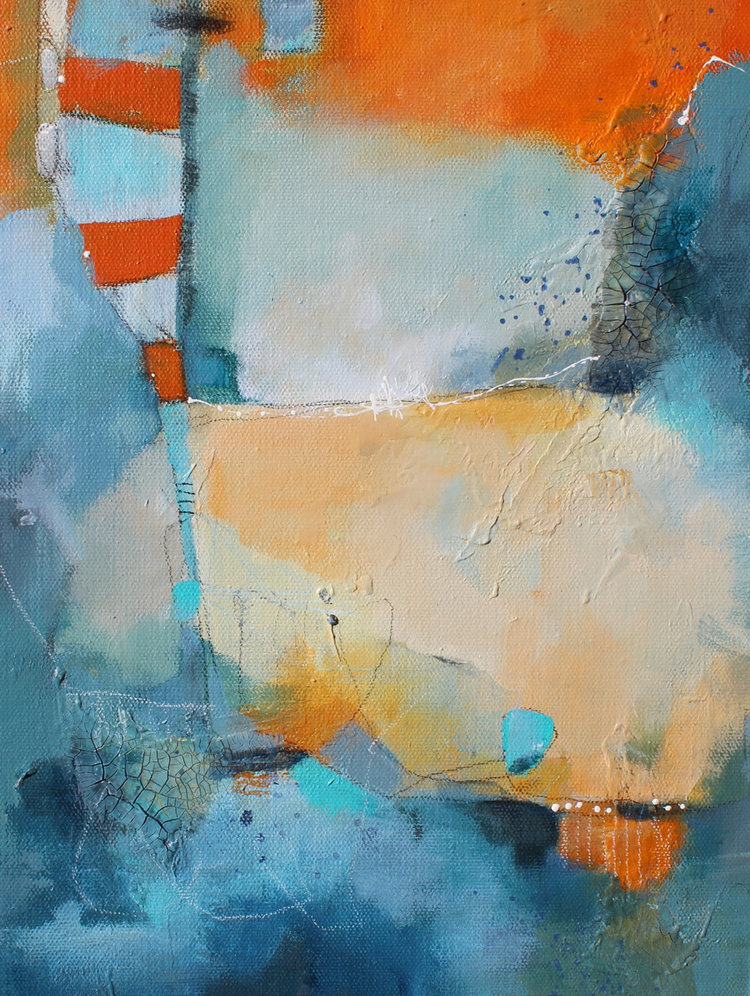 ABSOLUTELY ABSTRACTS: The Art of Color
Hosted by ARTWorks Vass from June 1-3, 2019 in Vass, North Carolina
In this next chapter of my Abstract painting work shops, we will be honing in on ways to create color palettes that work together and dive into more advanced ways of mixing paint and mediums to create effects that are mystical and dreamy. If you are looking to stretch your wings and advance your painting skills, join us for this exciting extended weekend workshop!
For more information and to register, click HERE.
ABSOLUTELY ABSTRACTS: The Art of Color, Texas
August 9 (reception) August 10-11th hosted by Multiplicity Studios in Katy Texas.
2 Day workshop : You'll be encouraged to trust your instincts, as the answers should come from within and not from outside sources. Don't be afraid of making mistakes – learn from the 'opportunities' that appear by happenstance (very often, those unexpected outcomes can lead to the most amazing parts of our work). As we focus on design and color, understand that the path to the finish line isn't always a smooth and lateral exploration. If things came too easily, would they really be worth the journey? More Info HERE.
ABSTRACTS ON YUPO: The Illusion of Layers
Hosted by ARTWorks Vass from September 7-8, 2019 in Vass, North Carolina
During this 2-day workshop, students will discover how to layer paint in stained glass like layers with a brilliant contemporary feel. While I've worked on numerous surfaces, I've never found anything quite like yupo paper that will achieve the "Illusion of Layers" as it does without adding bulk to this unique surface. After a quick review of how to use this surface, students will begin focusing on color, design, organization of elements, glazing techniques and much more (and that is just our first day). For the grand finale, students will tie all their lessons together in a big way as we work on a large sized painting on Yupo paper.
For more information or to register, click HERE.
ABSTRACTS IN COLD WAX & OIL: California
Hosted by Kara Bullock's Studio from September 20-22, 2019 in Tustin, California
Are you interested in creating a series of abstract paintings with oil paints and cold wax, but don't know where to begin?Join author, instructor and mixed media artist, Jodi Ohl in this spectacular and fun filled two and a half day workshop where you will learn the basics of painting with oil paints and cold wax!
For more Information and to register, click HERE.